Journey east for a dozen special museums including a historic carousel, lots of saddles and railroad depots | Arts & Entertainment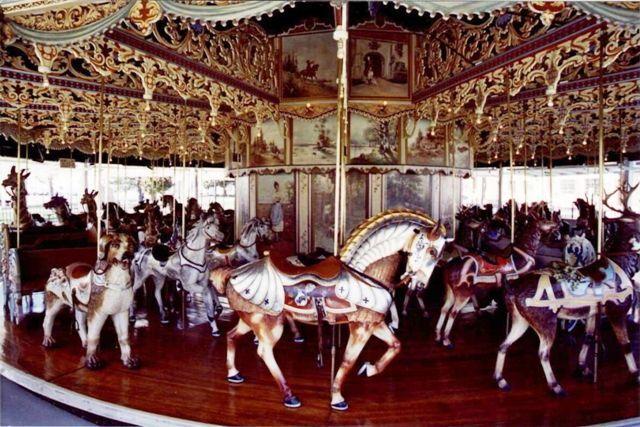 People are traveling once again, and 12 museums and attractions on the plains out east of the Front Range are offering free admission all summer, through Labor Day, to 12 special local history sites.
Places to visit are in Cheyenne, Elbert, Kit Carson and Lincoln Counties.
They're calling this project "Our Journey" and that's the password for admission. Free travel kits at 800-825-0208.
There's also a Colorado's Central Plains intro to "Off the Beaten Trail" geocaching sites and a free, self-guided audio tour via the TravelStorys App at Colorado Central Plains — TravelStorys.
Participating "Our Journey" museums and attractions:
1. Arriba Museum, 711 Front St., Arriba. The history of that Lincoln County area. Monday-Thursday, 8 a.m.-4 p.m., closed Friday. Other times by appointment 719-768-3371 or 719-768-3434. ourjourney.info/project/arriba-museum
2. Bailey Saddleland Museum, 20140 County Road 125, Simla. More than 300 Western saddles. Open by appointment, 719-541-2736 or 719-740-0658. ourjourney.info/project/bailey-saddleland-museum
3. Cheyenne Wells Old Jail Museum, 85 W. 2nd St., Cheyenne Wells. Saturdays and Sundays 1-4 p.m. Other days by appointment, 719-767-5865. National Register of Historical Places. The tiny jail was used for 75 years. ourjourney.info/project/cheyenne-wells-old-jail-museum
4. Elbert County Museum, 515 Comanche St. (Highway 86), Kiowa. Original Spanish Colonial Kiowa High School building. Thursday to Sunday, 1-4 p.m. elbertcountymuseum.org/elbert-county-historical-society
5. Flagler Hospital Museum and Hal Borland Room, 311 Main Ave., Flagler. Open year-round Monday-Friday, 8 a.m.-4 p.m., 719-765-4571. Originally a 1909 hotel, then a hospital and now the Town Hall and Library and Museum. colorado.com/historic-places-districts/flagler-hospital-museum-hal-borland-room
6. Kit Carson Museum, 202 W. Hwy. 40/287, Kit Carson. Monday-Saturday, 9 a.m.-5 p.m., closed Wednesday, 719-962-3306 or 719-688-8565. The town's train depot was saved from demolition and became the museum. ourjourney.info/project/kit-carson-museum
7. Kit Carson County Carousel Museum,  Kit Carson County Fairgrounds, Burlington. 11 a.m.-6 p.m. daily. 719-346-7666. One of only 150 wooden carousels remaining of the nearly 2,500 carved in America by the 1930s. Rides: 25 cents. kitcarsoncountycarousel.com
8. Limon Heritage Museum & Railroad Park, 701 1st St., Limon. Train cars, a rural schoolhouse, windmills and the original train depot. Thursday-Saturday, 1 -7 p.m., Sunday, 1-4 p.m. 719-775-9418. limonmuseum.com
9. Lincoln County Museum, 617 3rd Ave., Hugo. In the Hedlund family home, family memorabilia and the county history. Saturday, 10 a.m.-6 p.m., Sunday, 1-5 p.m. or by appointment. 719-740-0106. colorado.com/historic-places-districts/lincoln-countys-hedlund-house-museum
10. Mountain States Telephone & Telegraph Museum, 50 S. 1st St., Cheyenne Wells. From the first radio wave telephone system through the country's early telecommunications and including an original phone booth and switchboard. Saturdays and Sundays, 1-4 p.m., or by appointment, 719-767-5865. colorado.com/museums/mountain-states-telephone-and-telegraph-museum
11. Old Town Museum, 420 S. 14th St., Burlington. A full Western complex, 6 1/2 acres large, with 21 restored buildings, turn-of-the-century artifacts. The site, right off I-70, of special events and family activities. Open through November, Monday-Saturday, 9 a.m.-5 p.m., Sunday, noon-5 p.m. 1-800-288-1334. colorado.com/museums/old-town-museum-complex-burlington
12. Second Central School Museum, 404 Fourth St., Flagler. A country schoolhouse with authentic desks, chalkboards and artifacts from rural schools in the area. Open through Labor Day by appointment, 719-765-4603. colorado.com/historic-places-districts/second-central-school-museum